B&L Mechanical in conjunction with Bigelow Flemming (Construction Manager), A.P. Dailey Custom Lamination Corp (Commercial Architecture Millwork) and Buckley & Associates (Architect) was selected as 'Project Of The Month' for the $7.6 million multi-phased renovation project at MetroWest Medical Center.
See New England Real Estate Journel Article: http://reader.mediawiremobile.com/NEREJ/issues/200560/viewer?page=61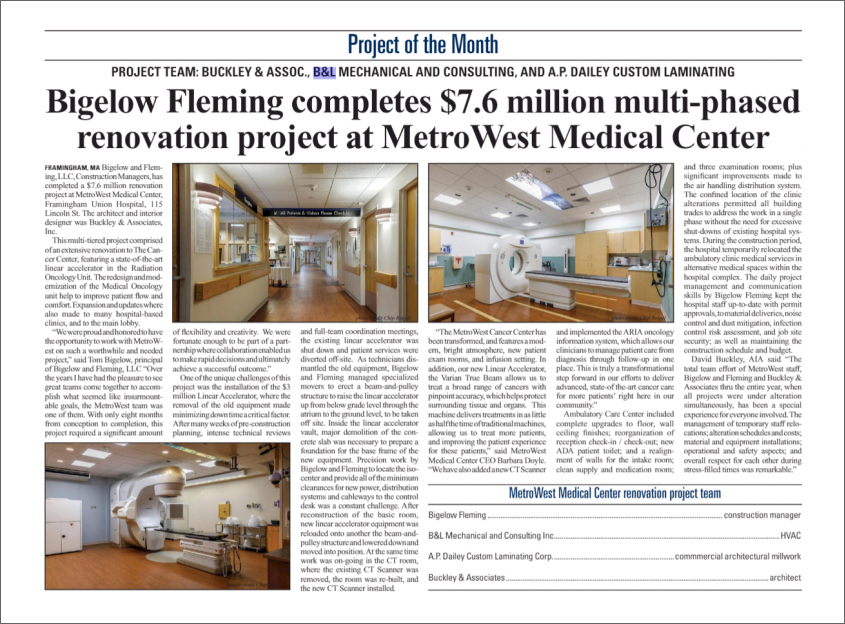 Tom Bigelow, principal of Bigelow and Fleming, LLC. stated, "We were proud and honored to have the opportunity to work with MetroWest on such a worthwhile and needed project, Over the years I have had the pleasure to see great teams come together to accomplish what seemed like insurmountable goals, the MetroWest team was one of them.
With only eight months from conception to completion, this project required a significant amount of flexibility and creativity. We were fortunate enough to be part of a partnership where collaboration enabled us to make rapid decisions and ultimately achieve a successful outcome."
The projected featured extensive renovations to The Cancer Center, that included a state-of-the-art linear accelerator in the Radiation Oncology Unit. Expansions were also made to the hospital based clinics and to the main lobby as well.